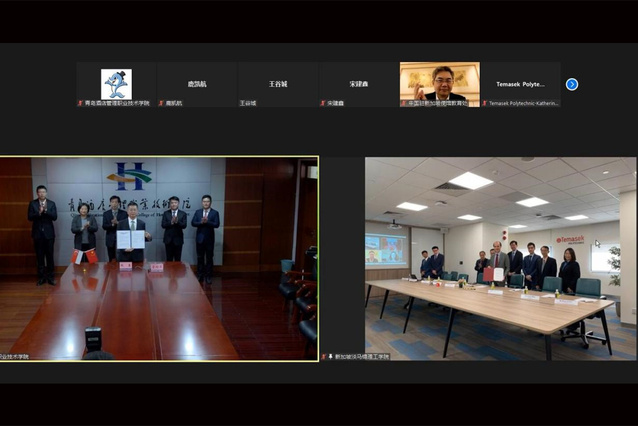 By Dong Quanyue | Qingdao Vocational and Technical College of Hotel Management

The college held an online signing ceremony with Temasek Polytechnic in Singapore and an online award ceremony for the Solar Decathlon Chinaon November 25.
Han Xiqing, Deputy Secretary of the Party Committee of the college, introduced the college's characteristics, international exchanges and cooperation. He said that the two sides carried out exchanges and visits in the new energy professional field relying on the teacher internship exchange project and participating in the World Skills Competition. He hoped that the two sides would continue to expand cooperation areas, deepen friendly exchanges and achieve mutual complementarity.
Kang Kai, Education Counselor of the Education Office of the Chinese Embassy in Singapore, affirmed the phased achievements of the China-Singapore vocational education teachers' internship exchange project, and hoped that based on this cooperation, teachers and students of the two schools could broaden their horizons, learn from each other, continue to enhance friendship, and promote China and Singapore to achieve more fruitful results in vocational education cooperation and exchange.
Yuan Jiayi, Senior Director of Temasek Polytechnic, expressed the hope that the two sides will take this signing as a new starting point, further deepen exchanges and cooperation, and cultivate high-level technical talents with international vision and global thinking for the society.
At the ceremony, Song Guoyun, Dean of the Institute of Engineering of Temasek Polytechnic and Zhang Yong, vice president of the School of Hotel Engineering, jointly signed a letter of intent. Tian Yuan introduced the basic situation of SD China High quality Skilled Talent Training Challenge of the 3rd Solar Decathlon China.
In this competition, Temasek Polytechnic and our team's work Pusu Qilanhaiju 2.0 won the second place in the total score of the group, as well as the first place in two single items, the best engineering structure and the most market potential.
This signing is the first vocational education cooperation and exchange project between our two sides. Next, under the framework of the memorandum of cooperation, the two sides will carry out professional discussions and practical cooperation in the fields of competition and fuel cell bicycle application project development in order to achieve mutual benefit and common development at a higher level.