Chinese Language Plus Smart Hotel Program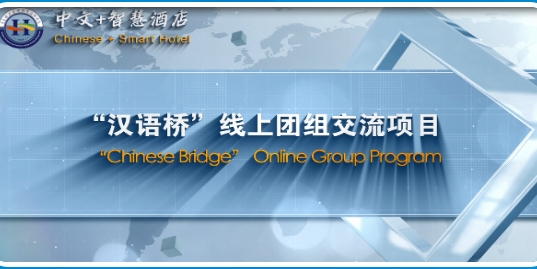 Introduction to Chinese 2023 Online Group Program

Chinese Language Plus Smart Hotel
Experience smart hotel, feel the beauty of Chinese language.
QVTCHM Chinese Bridge Online Group Program officially is launched in 2023.
Welcome overseas young people to learn practical Chinese online, experience the wonderfulness of smart hotel, perceive the innovative features of China.
Credit Bonus
Students admitted to this online program can, upon their full attendance to all courses as specified and completion of all assignments and interaction activities as required, receive a total of 2 credits either on Chinese language or Chinese culture courses in line with International Student Program of QVTCHM. Students receiving this credit hour bonus can ask for supporting documents from QVTCHM, or equate this credit hour bonus when they choose to study in QVTCHM within 3 years since the end of this online program. QVTCHM reserves all the rights to the final interpretation of the above mentioned credit hour bonus. Outstanding participants will be awarded certificates for their academic performance.
How many offers
About 60 students.
Who can apply
Non-native Chinese speakers, who are interested in Chinese language and culture, regardless of country or age. Priority is given to young people with a certain Chinese proficiency.
Fees
FREE
Program date
October 29, 2023-Novmber 4 , 2023
How to study
Class live broadcast + online activities + video courses (using the Chinese Bridge official website and the Chinese Bridge club App)
Check the schedule

The Schedule for Chinese+Smart Hotel Program.xlsx
When to apply
Before October 28, 2023
How to apply
Register and create your personal account at the official website of Chinese Bridge.
http://bridge.chinese.cn/online/camp/school/10372
Contact us
Address: No.599 Jiushui East Road, Lichang District, Qingdao, Shandong Province, China Qingdao Vocational and Technical College of Hotel Management
Contact: Zhou Li
Tel: 86+0532-86051668
Cell phone: 13625328928
Website: https://www.qchm.edu.cn/