School of Culture and Tourism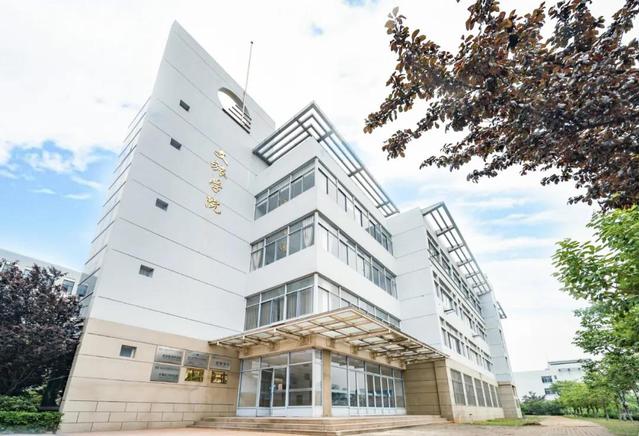 The School of Culture and Tourism is established to meet the needs of the construction of the Double High-level Program and the general trend of the integration of culture and tourism. It consists of three majors: Tourism Management, Exhibition Planning and Management, Application of Korean, with more than 1100 full-time students.

Our majors are entitled a series of honors, for example, 2 national key majors, 2 national Double High Plan key construction majors, 1 National vocational college demonstration specialty, 1 National Tourism Vocational Education School-enterprise coopertion demonstration base, 2 characteristic majors in Shandong Province, 2 key construction majors in famous characteristic schools in Shandong Province, 2 key construction majors in high-quality vocational colleges in Shandong Province, and Shandong vocational education high level majors
There are 2 industry group construction majors, 2 brand group construction majors in Shandong Province, and 1 key construction major in Qingdao. We cooperate with Qingdao University and jointly carry out the training of high-level technical talents.
About Teaching staff
The School has 60 teachers, including 25 full-time teachers, 10 teachers from other departments and 25 part-time teachers who are senior managers and technical experts from the front line of the enterprise. Among the full-time teachers, there are 1 professor, 10 associate professors, 44% of senior professional titles, 100% of master's degree, 100% of Double Qualification and 100% of senior vocational qualification certificate. The teaching team of Tourism Management specialty is the provincial teaching team and the youth innovation team of Shandong Province.
About Teaching and Scientific Research
We adhere to the student-centered teaching concept, vigorously implement the Education Reform, promote the establishment of the internal governance system of teaching, the establishment of school enterprise Cooperation Council, the construction of Industrial College, and improve the quality of technical and skilled personnel training.
Teaching and Scientific Research
We've got lots of achievements, e.g.
1 second prize of national teaching achievement award

2 provincial teaching achievement awards

1 Inzone Culture and Tourism Industry College with mixed ownership characteristics jointly built with Inzone Tourism Group

1 National Modern Apprenticeship pilot

2 provincial and municipal modern apprenticeship pilot

1 Qingdao modern apprenticeship pilot

2 provincial teaching guidance programs

1 provincial teaching resource bank

1 Shandong Peninsula School Running Alliance

1 Qingdao Vocational and secondary professional school running alliance

4 provincial-level excellent courses

4 provincial-level excellent resource sharing courses.
We adhere to the concept of scientific research serving teaching and emphasize applied scientific research. We have successively built four high-level research platform institutions including Qingdao Tourism Data Research Center, Cultural Tourism Collaborative Innovation Center, Tourism Management Research Institute, Exhibition Economy Research Institute, etc. And we have successively completed nearly 100 subjects at all levels such as 10000- talents Plan of the Ministry of Culture and Tourism, National Tourism Vocational Education and Teaching Steering Committee, Shandong Social Science Planning, Shandong Culture and Tourism Department, and Shandong vocational education and teaching reform.
About Social Services
We take the initiative to serve the national strategy, integrate into regional development, promote industrial upgrading, vigorously carry out the construction of technical skills platform, and build a high-end think tank serving the high-quality development of regional tourism economy. Five social service platforms have been built to vigorously carry out social training, industry research, tourism planning, management consulting and other social service projects, and the platforms include Shandong Research Institute of tourism, Shandong Rural Tourism Training Base, Qingdao Tourism Think Tank, Qingdao Exhibition Economic Research Association, Qingdao Hismile Cultural Tourism Co., Ltd. We've led the completion of 7 national exhibition industry group standards and more than 100 projects.
About Training
We have advanced training conditions in China and built a shared national productive training center, a training base for modern service industry in Shandong Province, a training center for the integration of theory and practice in tourism management and an Innovation workshop for culture and tourism which mainly include business department, simulation travel agency, 3D simulation tour guide training room, intelligent travel agency, e-commerce training room, three-dimensional training platform for Qiance guide, micro training room, exhibition building training room, conference equipment operation training room, exhibition software operation training room, etc.
About Skills Competition
We attach great importance to the cultivation of students' skills, vigorously promote the teaching mode of promoting learning and teaching by competition, and bring students' participation in the skill competition into the required credits of the second class, so as to guide students to advocate skills and shape the spirit of craftsman.
3 first prizes in the world tourism case study competition of GTTP

4 first prizes, 7 second prizes and 2 third prizes in the Tour Guide Service of the National Vocational College Skills Competition

20 first prizes in the National Tourism College service skills (Tour Guide Service) competition

9 first prizes in the t the Tour Guide Service of the Shandong Vocational College Skills Competition

2 first prizes in the Exhibition Innovation and Creative Practice Competition of the National University Business Elite Challenge,

1 first prize of Exhibition Skill Competition of National commercial colleges

8 first prize of Shandong Exhibition Creative Design Competition

1 first prize in the final of the 16th Challenge Cup National College Students' Extracurricular Academic and Technological Works Competition in Shandong Province

The bronze award of Internet + College Students' Innovation and Entrepreneurship Competition in Shandong Province
About Internship and Employment
We have established good internships with famous tourism exhibition enterprises, museums and exhibition halls, such as China Tourism Group, Shandong Culture and Tourism Group, Overseas Chinese Town Group, Ctrip Tourism Group, Tongcheng Tourism Group, Beichen Exhibition Group, Shanghai Disneyland Tourism Resort, Huaqiang Fangte Dream Kingdom, Tsingtao Beer Group, Qingdao Guoxin Group, Qingdao Tourism Group and Xiamen Exhibition Group. The excellent comprehensive quality and solid professional skills of the students have been praised by the employers, so the employment rate of students is above 99%.
We will take advantage of the integration of Double High Program, adhere to the educational concept of being wise and practical, and combining knowledge with practice and the working policy of serving the development of the college, serving the growth of teachers and students. In order to build a brand department of China's tourism vocational education, we vigorously promote the connotation construction, achieve high-quality development.