Welcome to the School of Culinary Arts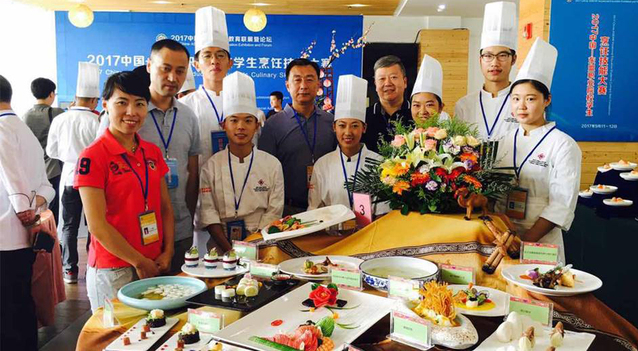 The School of Culinary Arts was founded in 1958 and became one of the first Schools which developed culinary vocational education in China. It is also the director unit of China Cuisine Association and has a reputation of The Whampoa Military Academy of Lu Cuisine (The Whampoa Military Academy is a distinguished military school in China).
There are five specialties, including Culinary Art and Nutrition, Chinese and Western Pastry, Western Cuisine Art, Food Nutrition and Inspection, Nutrition and Catering. Besides, there is one China central government funded major, one provincial characteristic major, one provincial example major, two provincial funded majors of Shandong famous college, 6 provincial excellent courses, one Shandong higher education teaching achievement prize. Meanwhile, the department is the leading one which formulates the Shandong five-year higher education teaching plan.
The School adopts the stair-like training model of 1+1+1 theory and practice, the modern master-apprentice teaching mode and modularity teaching of practical training and sets up the National Occupational Skill Testing Authority, the research and development center of Shandong Cuisine, the training base for labor re-employment in Qingdao and the training base for technicians and advanced technicians.
The School now has 8 Cuisine Masters of the national level, 6 Cuisine Masters of the provincial level, 12 Cuisine Masters of the municipal level, 1 Shandong Provincial Pastry Master, 3 Qingdao Municipal Culinary Skill Master, 6 National and Provincial Nutrition and Catering evaluation staff, 8 National first level judges of catering industry, 25 National Vocation skills evaluation staff. The department also employs many famous experts, such as vice chairman of National Cuisine Association Mr. Gao Bingyi, director of National Cuisine Association Mr. Li Peiyu, National Cuisine Contest three gold medal winner Mr. Meng Xianqi, famous Western Food teacher Mr. Lan Xinbao as guest professors in this School.
The School actively launches social training programs, performing the function of social service and carries out professional training for local government, enterprises and army. The School establishes the communication of international catering culture with institutions from Canada, France, Germany, Korea, Japan and Taiwan province and obtained outstanding achievements.