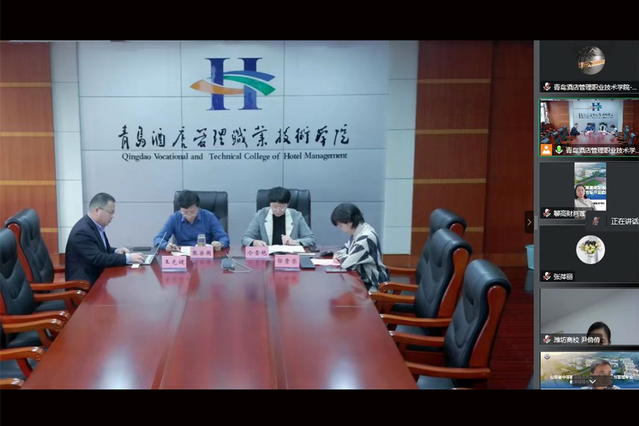 By Dong Quanyue | Qingdao Vocational and Technical College of Hotel Management

The kick-off meeting for the development of the teaching guidance scheme for the operation and management of the star-rated hotels in vocational schools in Shandong province was held in the conference room of the Administrative Building on November 22. Experts from 19 undergraduate, vocational colleges and vocational schools, industries and enterprises in the province attended the meeting online.
Vice president Zhang Zongguo said that the revision working group should combine the teaching practice of secondary vocational education in the province, summarize the experience in the development of professional teaching guidance programs, learn from the past advanced practices, and carry out work creatively.
In a scientific and pragmatic attitude, we should adhere to the deep integration of production and education, the collaborative education between schools and enterprises, the close integration of work and learning, and the high integration of knowledge and practice.
We also should strictly abide by the compilation specifications, develop and improve at the same time to ensure that the professional teaching guidance scheme is universal, distinctive and consistent with the training objectives and teaching practice of vocational schools.
Leng Xueyan, the dean of the School of Hotel Management, interpreted the Notice on the Revision and Development of the Teaching Guidance Scheme for Secondary Vocational Education Major issued by Shandong Provincial Department of Education, and combed the key links and workflow of the development of the teaching guidance scheme in combination with the characteristics of the operation and management major of star-rated hotels in vocational schools.
Wang Guangjian, vice president of the School of Hotel Management, has refined the research content, direction setting, curriculum system, research arrangement and other tasks from the three levels of colleges, enterprises and teachers.
The professional teaching guidance scheme is a guiding document for deepening the professional curriculum and teaching reform of vocational education, which is conducive to standardizing and promoting vocational education teaching, strengthening the connection between secondary and higher vocational education, training the teaching staff, and making high-quality and standard vocational education.
We will conduct extensive research and full demonstration by the member units of the joint development working group, develop a scientific professional teaching guidance scheme with distinctive characteristics of the province as scheduled.