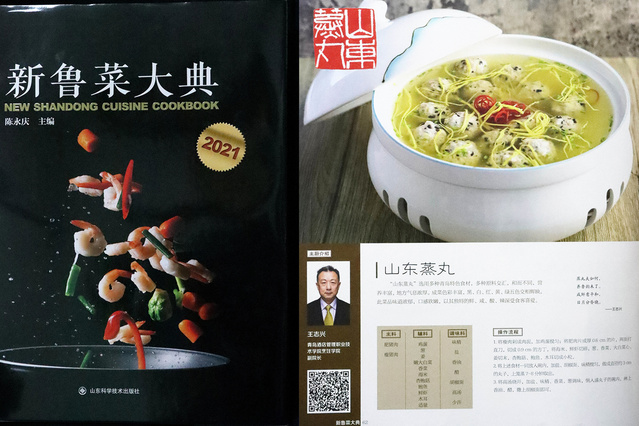 By Dong Quanyue | Qingdao Vocational and Technical College of Hotel Management
The award ceremony of the New Shandong Cuisine Innovation Competition and the initial publishment ceremony of the New Shandong Cuisine Book were held in Jinan recently. Shandong Steamed Pork Ball made by Wang Zhixing, vice president of the School of Culinary Arts was selected into the New Shandong Cuisine Book, and the video of the participating dish was displayed simultaneously on the CCTV Video App.
The ceremony was hosted by the Shandong Station of China Central Radio and television, Shandong Provincial Department of Culture and Tourism and Shandong Tourism Hotel Association
It is understood that New Shandong Cuisine Book is praised by insiders as a masterpiece in the history of innovation and an innovative example of Shandong cuisine. The participating dishes realize the organic combination of production and shooting with historical and cultural characteristics, local food material characteristics, nutrition, health and environmental protection concept and aesthetic art.
Shandong Steamed Pork Ball
The production technique of Shandong Steamed Pork Ball originated in the Qing Dynasty. It was improved by Mr. Wang Yisan, a master of Shandong Cuisine, and introduced into the surrounding areas of Qingdao. It was widely spread in Jiaodong area. After several generations of inheritance and development, it has gradually become well-known all over the country, and has been promoted and spread with our school as the inheritance base.
In recent years, the main inheritors of Shandong Steamed Pork Ball, represented by Wang Zhencai and Wang Zhixing, have adhered to the spirit of craftsmanship, kept pace with the times, combined with Qingdao's local product resources, integrated all kinds of seafood into it, enriched food ingredients, took nutrition and health into account, and fully demonstrated the inclusiveness of marine culture.
Shandong Steamed Pork Ball production technology has been successfully selected into the expanded list of the Sixth Batch of representative projects of municipal intangible cultural heritage in Qingdao.