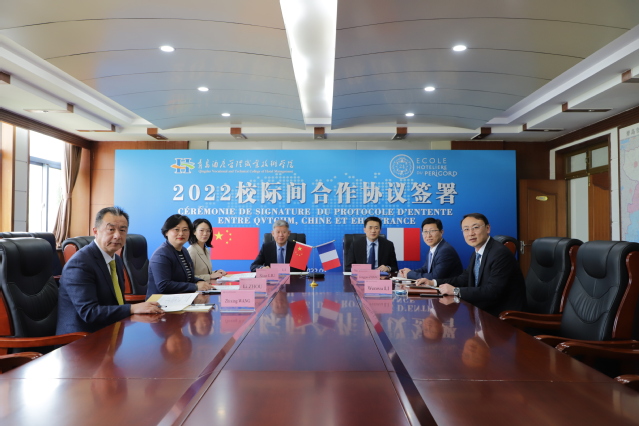 By Dong Quanyue | Qingdao Vocational and Technical College of Hotel Management
The college held an online signing ceremony with Ecole Hôtelière du Périgord of France on May 13.
Li Da introduced the school's history, characteristics and international exchanges at the meeting. He said that since the signing of the memorandum of cooperation with Ecole Hôtelière du Périgord in 2020, relying on their professional advantages, the two schools have held Chinese and French online cooking classroom activities, conducted extensive discussions and exchanges on the introduction of Western food courses, teachers' professional training, Chinese food going out and cultural research, and reached a number of cooperation consensus. Li Da hopes that the two colleges will take this signing ceremony as an opportunity to have close exchanges and contacts, carry out project cooperation and achieve more cooperation results.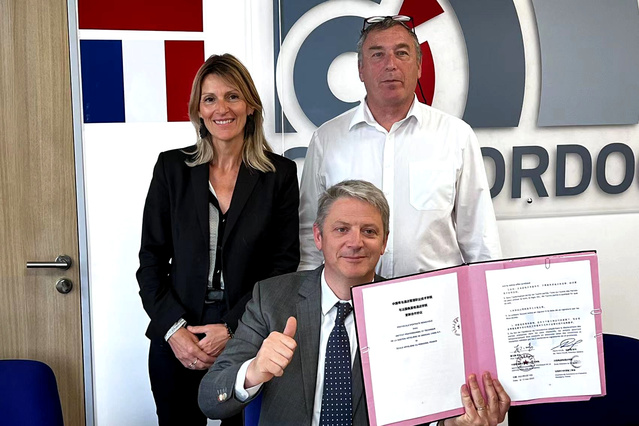 Kathy lanu, President of Ecole Hôtelière du Périgord, introduced their professional characteristics, teaching and international exchanges, and affirmed the online cooking class activity jointly held by the two sides. She said that both sides will take culinary culture and technology as the carrier of exchange and cooperation, learn from each other, and jointly cultivate culinary professional and technical talents with international vision.
Pierre Wulin, President of the French Chamber of Commerce and Industry in Dordogne, delivered a speech on behalf of the French Chamber of Commerce and Industry. He said that Dordogne province is a famous producer of agricultural products and food materials in France and an important gathering place of French food culture, and he looked forward to the realization of more famous food and cultural exchanges after the epidemic.
president Jiang Yupeng signed cooperation agreements with the chamber of Commerce and Industry of Dordogne province and Ecole Hôtelière du Périgord.
During the event, the two schools conducted in-depth discussions on the joint training project of international talents in the Chinese and French catering industry, the establishment of the first Luban Workshop with Chinese cuisine as the carrier in France, the training of Western food professional teachers, and the integration of school enterprise industry.
The college will actively implement the relevant matters of the cooperation agreement with Ecole Hôtelière du Périgord, constantly expand the field of cooperation and exchange between the two colleges, promote the deepening and practice of cooperation and exchange, and help the construction of the Double High-level Program.