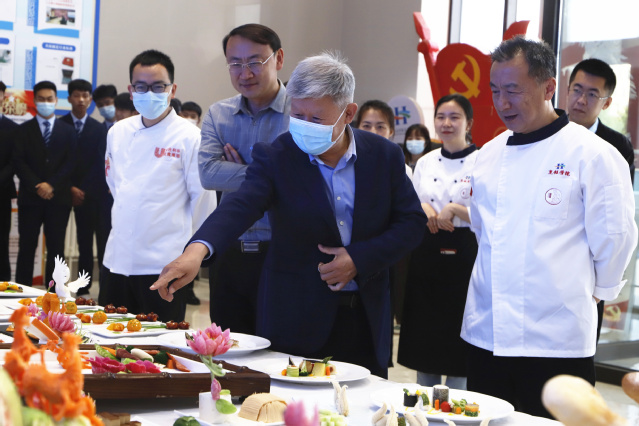 By Dong Quanyue | Qingdao Vocational and Technical College of Hotel Management
The School of Culinary Arts held a Flavors exhibition of the achievements of the college students' Culinary Art and Culture Festival on May 12.
With the theme of Welcoming the 20th National Congress, the eight contestants who will participate in the 2022 National Vocational College Skills Competition and more than 10 students of Catering Creativity Research Center of the scientific research and innovation platform used designated raw materials to give full play to their imagination and creativity, and carried out creative design and production of dishes through carving, sugar making, Chinese pastry, hot dish making and so on. The display dishes are placed in a standard and orderly manner, with various forms and styles, which fully shows the students' exquisite skills.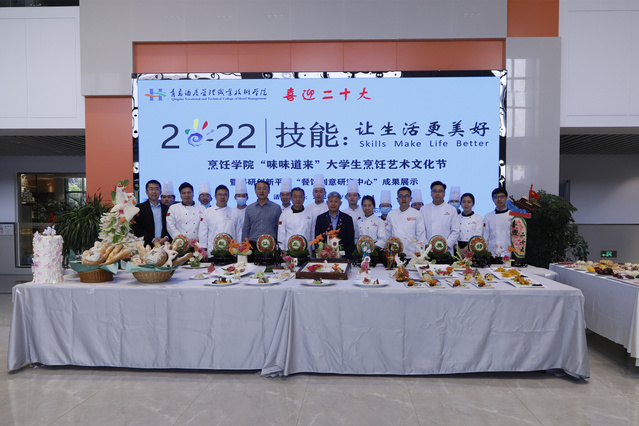 This activity conducted a comprehensive assessment of students' professional skills and quality. It is not only a centralized display of the latest achievements, but also an important practical exercise before the National Skills Competition. It has improved students' teamwork ability and innovative research & development(R&D) ability, and played a positive role in improving the quality of training courses, innovative R&D of catering technology, and promoting the construction of specialty group of Double High-level Program.