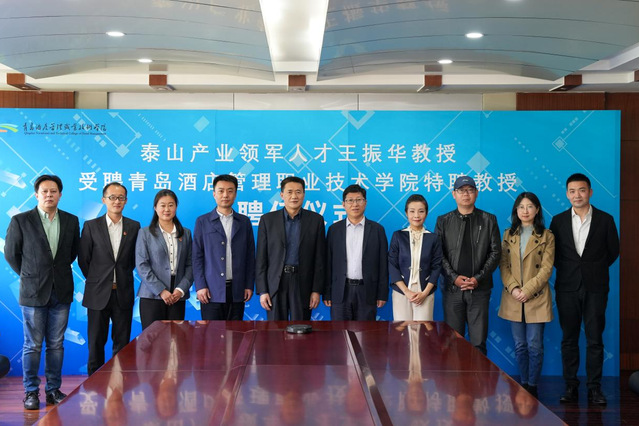 By Dong Quanyue | Qingdao Vocational and Technical College of Hotel Management
Mr. Wang Zhenhua, a leading talent of Taishan industry, was hired as a distinguished professor of the college and the unveiling ceremony of Professor Wang Zhenhua Workstation was held on May 5.
President Jiang Yupeng thanked Professor Wang Zhenhua for being appointed as a distinguished professor of the college. He pointed out that the we're in the stage of high-quality development, comprehensively promoting the construction of the Double High-level Program and the comprehensive reform of improving quality and cultivating excellence. As a distinguished professor of the college, Professor Wang Zhenhua will provide us strong support and the School of Arts should take this opportunity to optimize the professional layout, improve teachers' teaching and scientific research ability and enhance the comprehensive strength of the specialty.
Professor Wang Zhenhua, the representative of Shandong Provincial People's Congress and chairman of Shandong Shibo Huachuang animation Media Co., Ltd., said that he will give full play to his resource advantages in industry enterprises, rely on workstation, carry out innovative research and provide resource support in the transformation of professional skills and project achievements, help the School of Arts to innovate and develop in the fields of talent training system, teacher training, specialty, curriculum, school enterprise integration and enable the construction of cultural and creative industries.
At the ceremony, president Jiang Yupeng and professor Wang Zhenhua jointly signed the employment agreement, and president Jiang issued the letter of appointment of distinguished professor to professor Wang.
Vice president Zhang Zongguo and Zhu Guangli, Dean of the School of Arts, jointly unveiled the Professor Wang Zhenhua Workstation.