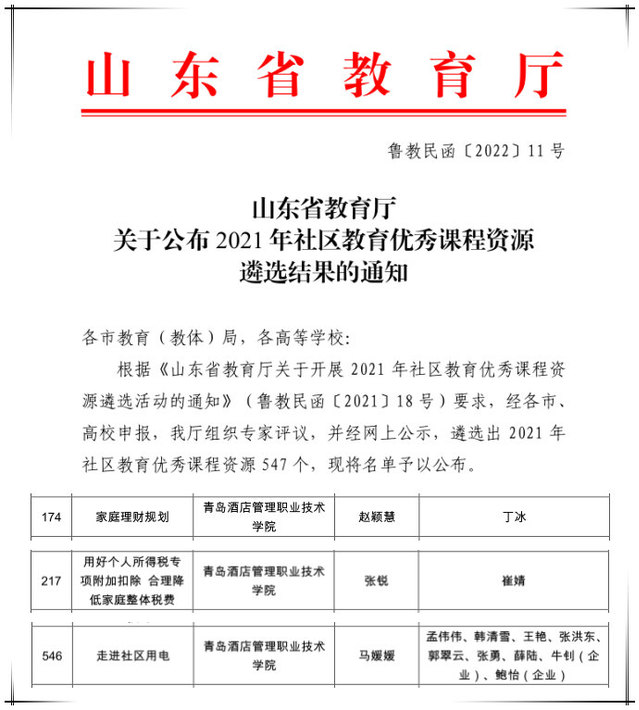 By Dong Quanyue | Qingdao Vocational and Technical College of Hotel Management

Three courses are selected into the excellent curriculum resources of community education, according to the notice of Shandong Provincial Department of Education.
The three excellent courses include Family Financial Planning by Zhao Yinghui, Reasonable Reduction of Overall Family Taxes by Making Good Use of Special Additional Deduction of Personal Income Tax by Zhang Rui, and Electricity in the Community by Ma Yuanyuan.
The college openly solicited curriculum resources for the whole school, and recommended them to participate in the selection through curriculum application, content review, data upload and so on. After the evaluation of experts from Shandong Provincial Department of Education and online publicity, 547 excellent curriculum resources were selected in the province. The three courses selected by our college will be open and shared by social learners through platforms such as Shandong Online Learning of Lifelong and Shandong Online Learning of Seniors.
The School of Continuing Education will continue to give full play to its specialty characteristics and advantages, actively participate in the construction of community education curriculum resources, and build more curriculum resources with diverse themes, novel forms. Based on the principle of practicality and ease of use, more courses will be loved by residents and regional characteristics and serve the construction of learning society.