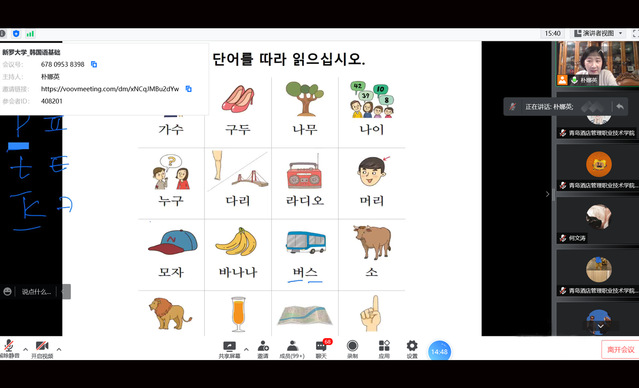 By Dong Quanyue|Qingdao Vocational and Technical College of Hotel Management

Student overseas exchange program of this semester was conducted in an orderly manner in the form of cloud classroom live class again recently, with 49 students from 8 schools participating in the training. This online training is also the third phase of the cloud classroom student online exchange program implemented by our college in cooperation with Honam University in South Korea.
The program, led by Pu Naying, senior Korean professor at Honam University, focuses on Korean pronunciation, structure, daily vocabulary and cultural interpretation, focusing on expanding students' second foreign language learning carriers. The project lasts for one semester, and students can obtain the course completion certificate issued by Honam University after completing all courses.
This teaching has built an online communication platform for our students who do not go abroad, which is conducive to improving students' internationalization, cross-cultural minds and international vision, and laying the foundation for further exchanges and visits after the epidemic.