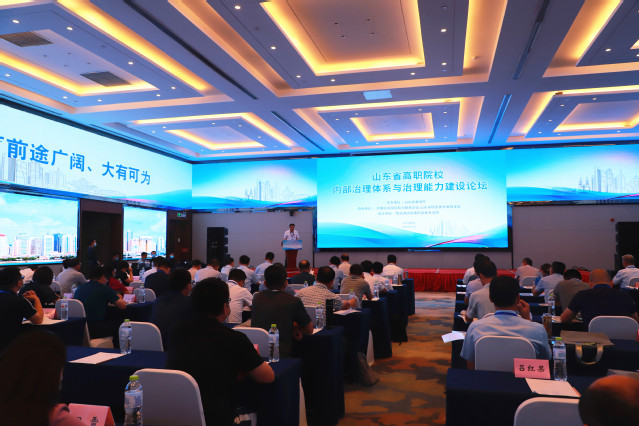 By Dong Quanyue| Qingdao Vocational and Technical College of Hotel Management


The college hosted the Forum on the Construction of Internal Governance System and Capacity Building of Higher Vocational Colleges of Shandong Province from July 30 to August 1, which was attended by the Party Secretaries and presidents of Vocational Colleges in the province, heads of departments responsible for governance, and relevant leaders of Qingdao Municipal Bureau of Education.
The Forum is hosted by the Department of Education of Shandong Province, Co- organized by the Joint Meeting of Principals of Qilu Vocational Colleges and Shandong Society of Vocational and Technical Education, and undertaken by our college.
The theme of the Forum is deepening the internal governance of Higher Vocational Colleges and promoting the high-quality development of Higher Vocational Education, which aims to improve the modern governance ability of vocational colleges, consolidate the foundation for the high-quality development of vocational education, and help build a highland for the innovation and development of national vocational education.
The modernization of governance system and ability is not only an important basis for carrying out vocational education governance activities, but also a key goal to strengthen the connotation construction of vocational colleges and improve the quality of vocational education.
Through this forum, we deepened our understanding and research on the modernization of vocational education governance system and ability, and provided practice for continuously enhancing the governance ability of vocational colleges, accelerating the construction of innovation highland of vocational education and realizing the high-quality development of Vocational Education in Shandong.