By Dong Quanyue| Qingdao Vocational and Technical College of Hotel Management

The college signed a school enterprise cooperation agreement with Hisense Appliance Group on the morning of June 2.

At the signing ceremony, President Jiang Yupeng welcomed Mr. Xia Zhangzhuo and his party, and introduced the college's development history, school running characteristics and the basic situation of the Double high-level program construction. He hoped that both sides would give full play to their respective advantages to carry out in-depth cooperation in personnel training, education, curriculum co construction and research cooperation, so as to promote the common development and make contributions to the local economic development.
Mr. Xia zhangzhuo, vice president of Hisense Appliance Group, introduced the basic situation of Hisense Appliance Group and the development of Hisense intelligent life and Hisense intelligent kitchen. He said that Hisense Group is vigorously developing intelligent kitchen equipment, hoping that the college can provide cooking technical support for Hisense's research and development of intelligent kitchen appliances.
President Zhang Zongguo said that school enterprise cooperation and integration of production and education are fundamental to the development of vocational colleges. He hoped that both sides would continue to expand cooperation fields, enrich cooperation connotation, enhance cooperation level, tap cooperation potential, support each other and develop together.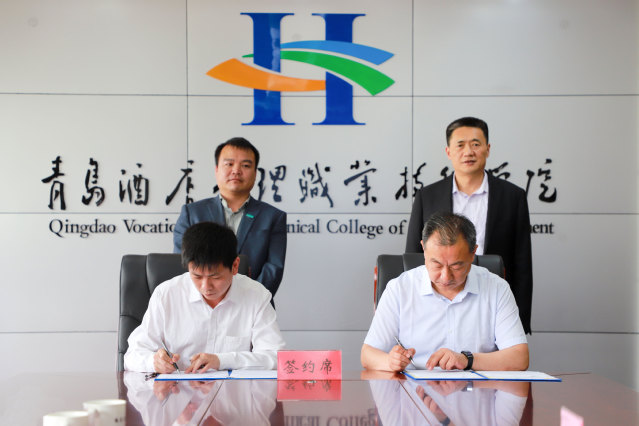 Mr. Wang Zhixing, vice president of the School of Culinary Arts, and Gong Lianfa, deputy director of the Key Laboratory of Smart Home Appliances of Hisense Appliance Group, signed the school enterprise cooperation agreement.