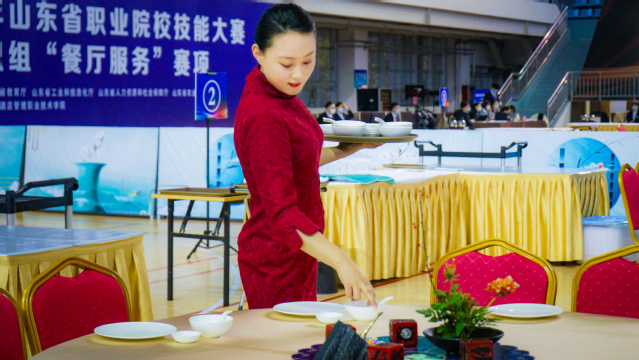 By Dong Quanyue/ Qingdao Vocational and Technical College of Hotel Management

Restaurant Service event of Shandong Vocational College skills competition officially opened in the college on November 18, and 26 teams from higher vocational colleges from all over the province competed on the same stage.

The Restaurant Service event is the corresponding project in the reform pilot competition of National Vocational College Skill Competition in 2020. The provincial competition, fully in accordance with the requirements of the national competition regulations, benchmarked the world competition, reflecting Chinese characteristics and programs. The competition content mainly focused on two sub items of restaurant service, Chinese food service including theme banquet design and banquet service, Western food service including cocktail preparation and service, coffee production and service, leisure restaurant service.
With their skillful skills, graceful posture and moving smile, the contestants show the elegant demeanor of the hotel management students in our province.