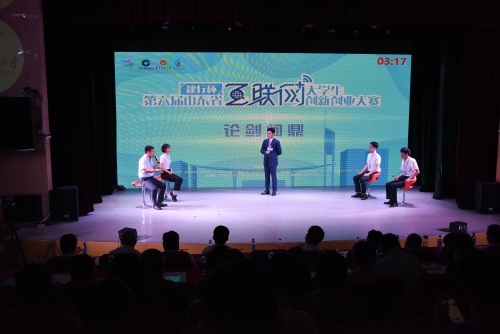 By Dong Quanyue/ Qingdao Vocational and Technical College of Hotel Management
The sixth Shandong "Internet Plus" Student Innovation and Entrepreneurship Competition came to a close on October 14th. The college team won two silver awards and four bronze prizes. We also won the excellent organization award of rural revitalization and the vocational education items.

The contest, with the theme of I dare to challenge and I can create, is jointly sponsored by the Provincial Department of Education, the Provincial Youth League Committee, the Provincial Development and Reform Commission and other provincial departments. The contest lasted more than four months and attracted 142 colleges and universities in the province to enter the competition, involving 118600 entries and more than 362500 students. After the fierce competition between preliminary competition and the provincial final, the two works recommended by the college, such as intangible cultural heritage beans - the intangible cultural heritage commonweal plan of Qingdao city and Haoyuan fishery industry, subverter of high-grade ornamental fish, won silver awards. And the other four works won bronze awards, such as Public welfare research travel in the countryside, Professional housekeeper of high-end car care, and The innovation and promotion of Oxygen Preservation Technology - Taking Majiagou celery as an example, and intelligent management system for mechanical and electrical equipment.
The Youth League Committee will continue to focus on the practical education function of mass entrepreneurship and innovation competition, encourage students to actively participate in innovation and entrepreneurship practice, continue to cultivate students' innovative spirit and practical ability, and contribute to the construction of Double high-level program of the college.