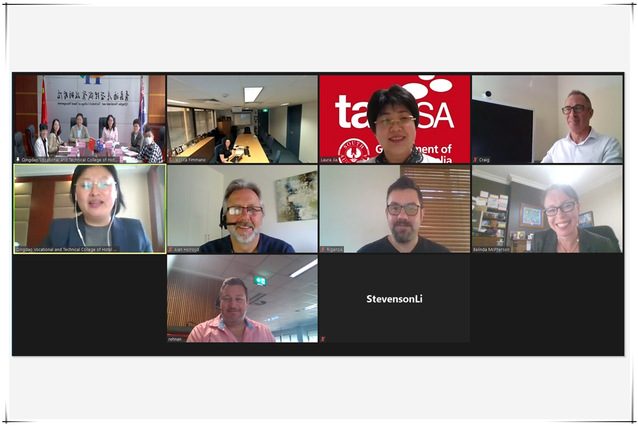 By Dong Quanyue/ Qingdao Vocational and Technical College of Hotel Management

TAFE SA and our college held a cloud meeting of the project management committee of hotel management cooperation on October 13, which was organized by the International Office.

At the meeting, Wang Xin, deputy secretary of the Party committee of the college, exchanged views with TAFE SA on the epidemic prevention and control situation of the college, reviewed the cooperation and exchange process between the two institutes, and fully affirmed the innovative cooperative thinking, active consultation, making full use of online teaching resources and ensuring the learning and teaching quality of project since the outbreak. Wang Xin expressed the hope that the two sides can strengthen communication, explore innovation, and plan carefully to ensure the quality of education and teaching of the cooperation project.
Craig ward, Dean of Art, Catering and Tourism College of Technical and Further Education South Australia (TAFE SA), said that they will work with our college to actively cope with the challenges brought about by the epidemic, and make every effort to do a good job in the management and teaching guarantee of the cooperative education projects.
Wang Changyu, President of the Dept. of Hotel Management, and Belinda McPherson, Education Manager of Catering, Tourism and Culinary Specialty of TAFE SA, had a friendly negotiation according to the according regulations. Both sides agreed to make reasonable adjustments to the teaching plan of the first session of students on the premise of ensuring the teaching quality. The two sides plan to hold a working meeting of the Teaching Management Committee in November this year to review and evaluate the teaching progress, teaching achievements and teaching quality.