By Dong Quanyue/Qingdao Vocational and Technical College of Hotel Management

The awarding ceremony of Wang Guiyun Innovation Studio, a model worker (highly-skilled talent) of Lushang Group, was held in our college on July 9. Li Xiangjun, Chairman of the Standing Committee of the CPC Committee and the Trade Union of the Lushang Group, and Li Da, Secretary of the CPC Committee of QVTCHM, jointly unveiled the label for the studio. Yu Min, Deputy Secretary of the CPC Committee of QVTCHM, presided over the licensing ceremony.

In his speech, Li Xiangjun extended warm congratulations to the first batch of model workers (highly-skilled talents) innovation studios of our college and the Team of Wang Guiyun. He emphasized that the Labor Model Innovation Studio is a team headed by model workers and composed of professionals. It is a platform for giving full play to technological advantages and demonstrating the innovative development of skills and expertise. It is also a training base to ensure that all kinds of model workers and highly skilled talents can make achievements. Li Xiangjun hopes that we will strengthen communication and exchange, summarize the experience and achievements of the establishment of model studio and promote the high-quality development of the Lushang Group with scientific and technological innovation and talents.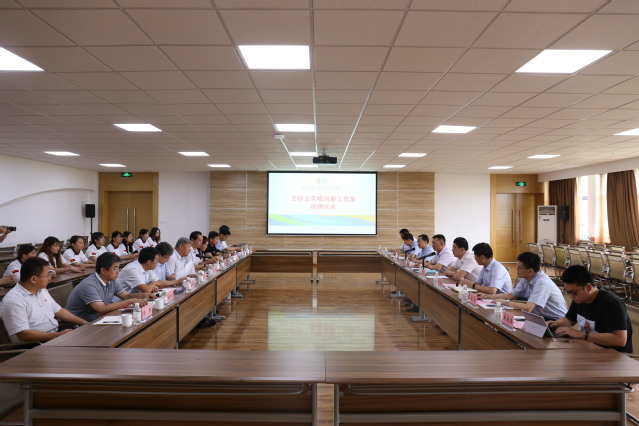 Li Da said that Master Wang Guiyun has been teaching for 39 years, always taking training students and inheriting skills as his conscious pursuit, always working in the front line of education and teaching, and has trained a large number of outstanding professionals for the catering industry. The Innovation Studio of Group Model Workers (High Skilled Personnel) is not only the recognition of Master Wang Guiyun, but also the affirmation of the work of our college. In accordance with the plan, we will increase investment, speed up the construction of studios and make greater contributions to the Lushang Group.

Wang Guiyun sincerely thanked the Lushang Group and the college for their recognition. She said that he would take the opportunity of establishing a studio by granting a license, devote herself to the future work and do a good job of passing on and helping to make more contributions to the development of our college and the Lushang Group.
At the licensing ceremony, Ren Tianlong, Deputy Minister of the United Department and Secretary of the League Committee, read out the naming decision of the Labor Model Innovation Studio. Gong Enlong, Vice President of QVTCHM, introduced the establishment of Wang Guiyun Innovation Studio.