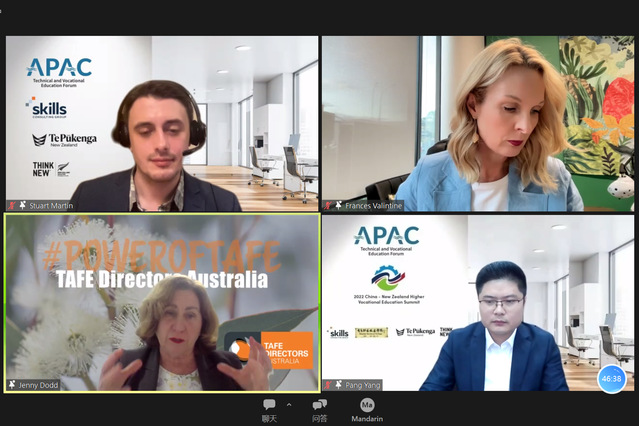 By Dong Quanyue | Qingdao Vocational and Technical College of Hotel Management

The Asia Pacific Technical and Vocational Forum and 2022 China-New Zealand Higher Vocational Education Summit were held online recently, and experts and scholars from many countries in the Asia Pacific region participated it. The college participated in a series of forum activities and made an exchange speech in the symposium session.
With the general theme of thinking new, the forum aims to gather scholars and experts from relevant government agencies, industries, vocational and applied education institutions to explore the issues of vocational and applied education in solving skills gaps and cultivating sustainable talents.
At the symposium session of MicroCertificates work together with government, industry and colleges for the future , Pang Yang, deputy director of the Academic Affairs Office, communicated with experts and scholars from New Zealand, Australia, Canada and the Pacific Training Alliance (APTC) about the development of the concept and practice of MicroCertificates, and introduced the practice of vocational ability training based on curriculum reform and the concept of vocational qualification certification based on documentary evidence integration.
Guided by the construction of the Double High-level Program, this forum will further enhance the college's level of foreign exchange, promote the concept of school education and teaching reform, and expand the specific practice of foreign cooperation channels.
It is reported that China and New Zealand have implemented the China-New Zealand Vocational Education Demonstration Project since 2013, and have successively held a number of projects such as vocational college leadership training, teacher training, education forums, Sino-foreign cooperation in running schools and teacher training bases. Among them, the China-New Zealand Higher Vocational Education Forum is held once a year, organized and held in China or New Zealand in turn. In 2022, it will be held in the form of a summit as one of the important segments of the Asia Pacific Technical and Vocational Education Forum for the first time.