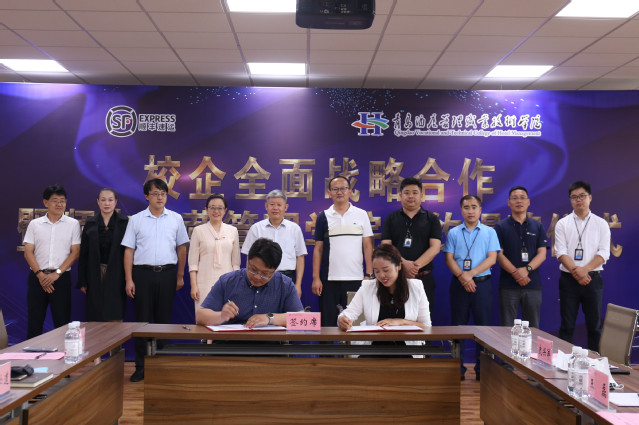 By Dong Quanyue, Qingdao Vocational and Technical College of Hotel Management
The ceremony of comprehensive strategic cooperation between the college and Shunfeng Express Group Co., Ltd. and the signing and unveiling of Shunfeng Operation and Management School(SOMS) was held in the conference room on the fourth floor of administration on June 23.

Li Da and Ding song jointly inaugurate the SOMS and the Enterprise Training Base for the double-qualification teachers .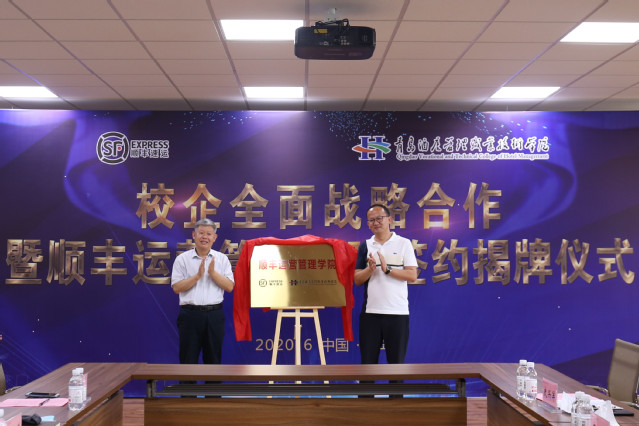 Li Da, Secretary of the Party committee of the college, introduced the construction and development of the college and specialty group of modern business logistics. He pointed out that the integration of production and education is the unique and essential feature of vocational college education. Through deepening the integration and introducing Enterprises into college, the quality of vocational talents training is further improved. This signing is the concrete reality of realizing the dual education of school-enterprise cooperation. We hope to carry out in-depth cooperation with various formats of SF Group.

Ding Song, General Manager of Ludong District of Shunfeng Express Group Co., Ltd., introduced the development of SF Express Group, congratulated the establishment of SOMS, and prospected the deepening of school-enterprise cooperation in the future.
Ding Song was appointed as the distinguished professor of modern business logistics specialty group, and Wang Hongying, who is also the head of the campus project of Qingdao Shunfeng express transportation Co., Ltd., was employed as the expert of the Construction Committee of modern business logistics specialty group. Wang Xin, Deputy Secretary of the college Party committee, awarded the appointment letters to the two experts.
At the ceremony, Pan Huanan, Vice President of the Dept.of Business Administration, and Wang Hongying, signed a comprehensive strategic cooperation agreement on behalf of the two sides.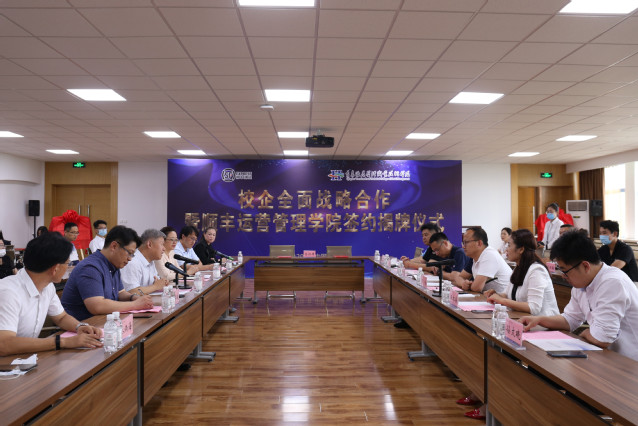 About Shunfeng Operation Management School (SOMS)

SOMS is an entity education institution with technical talents training as the main line, and has multiple functions and multi subjects, such as student employment, technological transformation and innovation, enterprise staff training, etc. At the same time, it enhances the practical ability of professional teachers and creates a high-level Double-qualification team through school-enterprise dual environment grinding.