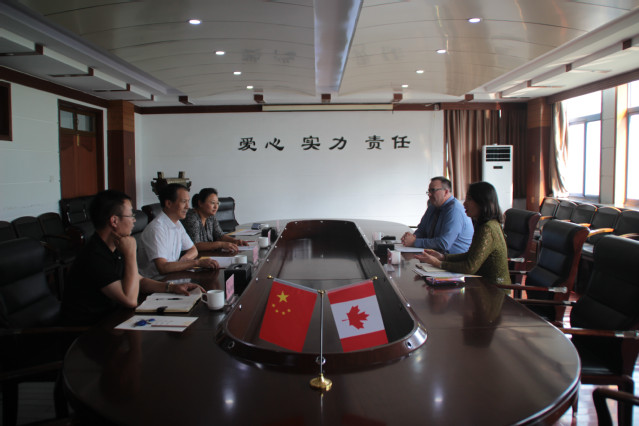 By Dong Quanyue, Qingdao Vocational and Technical College of Hotel Management
Richard Peters, Vice President of Canadore College, Canada, and Wang Fang, Director of China, came to visit and exchange with us on the afternoon of September 5. Vice President Wang Jianbao, Director Zhou Li of International Office and Dean Wang Jianming of Culinary Arts Dept. warmly received visitors.

During the talks, Wang Jianbao welcomed the guests'visit again. He said that our two colleges have a good cooperation. Both sides have established overseas campuses in China and Canada and we learn from each other through cultural exchanges. He hoped that the two sides will continue to expand areas of cooperation and promote further development. Richard thanked the college for its warm reception. He proposed to carry out teacher training and curriculum development under the platform of Canadore Western Cuisine Institute. He will send outstanding Canadian teachers to China to train more professional teachers in our college and other vocational colleges. In addition, the two sides discussed the exchange of short-term cultural experience groups in student exchanges, so that more students of the two schools could go abroad to understand and compare Chinese and Western cultures.
During his visit, Richard also held a discussion with the students who would like to study in Canada and he gave a detailed explanation of the students'concerns about their study and life.
Since the establishment of friendly and cooperative relationship in 2014, the College and Canadore College have had frequent substantive exchanges. In line with the principle of win-win cooperation, the two sides continue to learn from each other, and jointly improve the quality of running schools and students'professional quality.