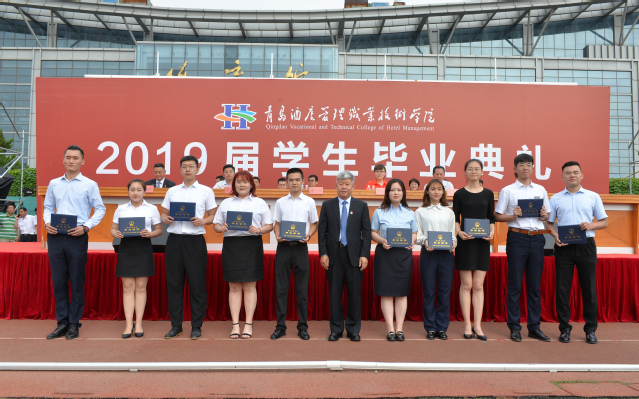 By Dong Quanyue/Qingdao Vocational and Technical College of Hotel Management

On the morning of June 30, the 2019 Graduation Ceremony was held in the stadium. Li Da, Party Secretary of QVTCHM, Yu Min, Vice Party Secretary, Gong Enlong, Vice President, representatives of students'parents, enterprises, all graduates of the 2019th session and heads of relevant departments of the College attended the ceremony, which was presided over by Diao Hongbin, Vice President of QVTCHM.
Li Da delivered a speech entitled The Golded Age of Struggling and the Outstanding Achievement of Youth . On behalf of QVTCHM, he warmly congratulated the graduates of the year 2019 on their successful completion of their studies, and expressed his heartfelt thanks to the teachers and parents of his classmates. Li Da pointed out that the past three years have witnessed the rapid development of the college and the full harvest of the students. The students increased the charm of our college with diligence and achieved a lot with their actions. Li Da expresses his hope to the graduates. First, we should cultivate patriotism, cultivate the feelings of his family and country, serve the motherland, serve the people and contribute to the society in the practice of releasing youth passion and pursuing youth dream. Second, we should always maintain the attitude of struggle, always maintain a healthy mentality. The more difficult and brave we are, the more courageous we are to move forward. Thirdly, we should carry forward the spirit of working hard, build our knowledge on the basis of accumulated knowledge. Li Da sincerely hopes all graduates could achieve the dream of the new era.