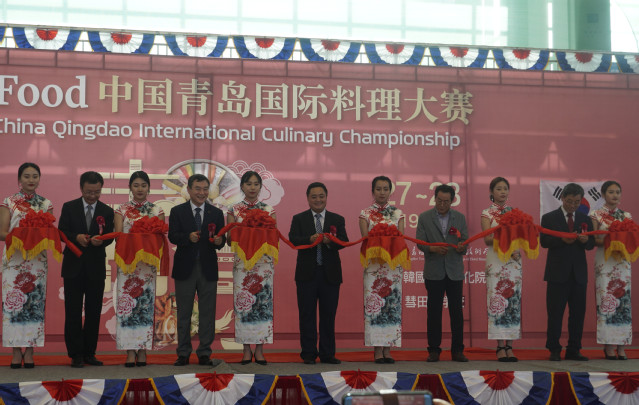 By Dong Quanyue/Qingdao Vocational and Technical College of Hotel Management
The 2019 K-food China Qingdao International Culinary Championship was held in our stadium from June 27-28. 65 participants from China and South Korea competed in the competition. Our four participants from the Dept. of Culinary Arts won the gold medal.

The competition is sponsored by the Korean Institute of Food and Culture, and co-sponsored by Hyejeon College of South Korea and our college. The opening ceremony was attended by Professor Kim Yongwen of Hyejeon College, Professor Piao Hochun, Secretary-General of the Korean Institute of Food and Culture, some leaders from HVTCHM.
At the opening ceremony, Jin Yongwen thanked our college for its strong support and congratulated us on the holding of the contest. He believes that Korean food and Chinese food will have a wider influence on the world's food and beverage industry and will be more popular through joint efforts. He believes that all participants will be able to become part of the spread of Chinese and Korean food culture.
Diao Hongbin, Vice President of QVTCHM said that our college, adhering to the idea of opening to the outside world, actively expands and strengthens foreign exchanges and cooperation. It has established extensive contacts with relevant industry organizations. He hoped to strengthen friendly cooperation and enhance the cultural exchanges between the two countries through the contest.
Li Da, Secretary of the Party Committee of the College, Yu Min, Deputy Secretary of the College and Zhou Li, director of the International Office, visited the contest.
During the competition, our high-level event organization and warm and thoughtful service have been recognized and praised by the organizers and contestants.