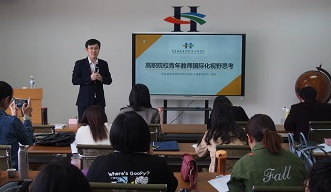 By Dong Quanyue, Qingdao Vocational and Technical College of Hotel Management
60 teachers from 40 colleges attended the opening ceremony of2018 National Training Class of Improving Vocational College Teachers' Qualification at QVTCHM in early April.
Li Da, Secretary of the Party committee inQVTCHM, made a lecture about "Thinking and Practice of Vocational Teachers' Development in New Era."
Jiang Yupeng, President ofQVTCHM, brieflyntroduced the recent development and achievement of our college. He said, "National training program is very important to develop modern vocational education quickly and improve teachers' qualifications."
There're two training pr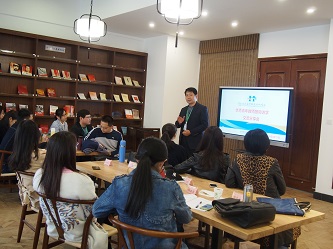 ograms in QVTCHM, "E-Commerce Teachers with Double Qualifications" and "Excellent Youth Teachers' Line-level Study". In order to guarantee everything goes well, two teamswere set up to prepare curriculum designs, enterprise investigation, choosing lecturers, food and accommodation etc. We also offered 24-hour butler service which ensure high quality training was carried out smoothly.
Although it's the first time for us to hold national training programs, we did a great job and got lots of good experience. We'll continue to accept such programs in the future and we believe we can do better.